Although not every team takes as many threes as the Houston Rockets, the long-ball has never been more prevalent in the NBA. During the 2019-20 regular season, ten teams attempted at least 40.0% of their shots from downtown, up from five in 2018-19 and two in 2017-18. The Rockets led the way at 50.1% (slightly down versus prior seasons, likely due to the addition of Russell Westbrook and his mid-range jumpers). With everything in the NBA, what works well trickles down to College Basketball.
For reference, 113 College Basketball teams attempted at least 40.0% of their shots from three in 2019-20, down from the 142 in 2018-19, but up from 103 in 2017-18 and 84 in 2016-17. The drop-off this past season was almost surely driven by the longer 3-point line, which discouraged threes to a certain extent. North Florida led the way in attempt rate last season (52.2%), dethroning Savannah St. for the first time since 2015-16.
Unsurprisingly, 3-point shooting ability has never been more valued by NBA scouts. Finding average to below-average college shooters that can become capable long-range threats down the road is arguably the key to sustained success in the draft.
The Predictive Value of Free Throw Percentage
But how do teams identify these "diamonds in the rough?" There is obviously no surefire method, but there's some evidence to suggest a prospect's college free throw percentage (FT%) can be somewhat predictive (potentially more so than their college 3-point percentage) of their long-range ability at the NBA level (see here and here for reference). Jayson Tatum of the Boston Celtics is often cited as an example of this. Tatum only shot 34.2% from three his one season at Duke but has shot 43.4%, 37.3% and 40.3% from downtown over his first three NBA seasons. Perhaps his 84.9% foul shooting in college suggested this kind of success was possible.
Rather than debating the true correlation between college FT% and NBA 3PT%, we're going to assume that generally speaking, there is at some level of predictive value. Given the existing evidence, and the fact the concept has become fairly mainstream in the scouting community, it at least warrants discussion.
Good Foul Shooters, Poor 3-Point Shooters
While the conversation surrounding the correlation tends to focus on projecting NBA 3-point shooting, might it also be used to predict future college 3-point shooting? I was curious about which NCAAB players fared well from the foul line but poorly from downtown last season. Perhaps some of these players have more 3-point potential than their percentages suggest and will showcase this in 2020-21.
Last season, 51 players with remaining eligibility posted the following: FT% >= 75%, FTAs >= 50, 3PT% <= 30%, 3PAs, >= 50 (per sports-reference). Of the 51, 15 were from a Power 6 Conference.
Three of the 15 (Anthony Edwards, Tyrese Maxey, and Ashton Hagans) will be foregoing their remaining eligibility. It will be interesting to monitor whether Edwards (potential No. 1 pick), Maxey (projected mid-1st round pick), and Hagans (projected 2nd round pick) turn into capable 3-point shooters down the road.
What about the 12 returning players? The longer 3-point line (22ft-1.75in) is one possible explanation for their large disparity in 3PT/FT shooting percentages. Across the sport, 3PT% fell from 34.4% in 2018-19 to 33.3% last season, and this may have affected freshmen more than anyone else. Sophomores, juniors, and seniors had to transition from the old college distance (20ft-9in), but freshmen had to transition from the even shorter high school 3-point line (19ft-9in).
Although the transition was not as large, the nine non-freshmen were clearly impacted by the longer line as well. Each player shot worse from three last season than the season prior, while interestingly, 8/9 shot the same or better from the foul line (suggesting their shooting mechanics didn't fall apart). Will the longer line continue to plague these players, or will a year of experience/practice lead to improvement? Can they reach the "33% threshold," roughly the D-1 average, and a general cutoff between below and above-average 3-point shooters?
The Sophomores
Ayo Dosumnu – Illinois: Dosumnu should be one of the best players in the sport this upcoming season, and there might not be a better clutch shot-maker. While he shot a solid 35.2% (50-142) from three his freshmen year, he made only 29.0% (27-93) as a sophomore (FT% rose from 69.5% to 76.3%). As the face of the offense, he took a fair number of challenging off-the-dribble threes, something that hindered his efficiency. Given his solid foul shooting and capable mid-range jumper, however, there's plenty of reason to expect Dosumnu to reach at least 33% from downtown next season (assuming his shot selection isn't too difficult).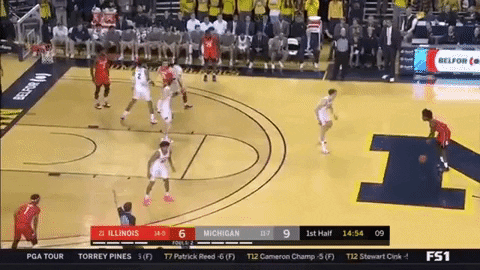 Darius Days – LSU: Days shot a solid 38.2% (26-68) from three his freshmen season but only 29.5% (39-132) in 2019-20 (FT% improved from 74.3% to 78.6%). The 6-6 forward has a fine-looking stroke, but despite getting plenty of decent spot-up looks, he wasn't able to knock them down. Assuming a similar shot quality, Days should reach the 33% threshold next season. As long as opposing defenses regard him as a long-range threat, he provides LSU valuable spacing (often guarded by opposing big-man).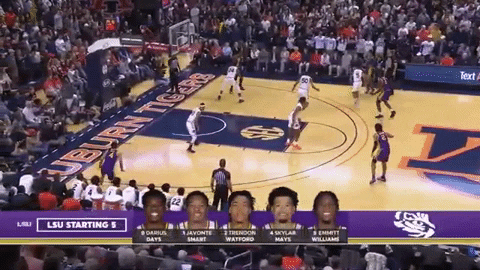 Both Gach – Utah: Gach was a subpar 3-point shooter as a freshman at 31.6% (30-95) and this dipped to only 25.0% (30-120) last season. He was the one player whose FT% also declined (85.7% to 77.5%). Like Dosumnu, Gach's efficiency was hindered by some tough off-the-dribble looks, but this doesn't explain the full extent of his struggles. Nor does adjusting to the longer 3-point line, given that he shot poorly as a freshman as well. It makes sense to expect some 3-point improvement from the guard, but can he get to 33%? I'd bet against it.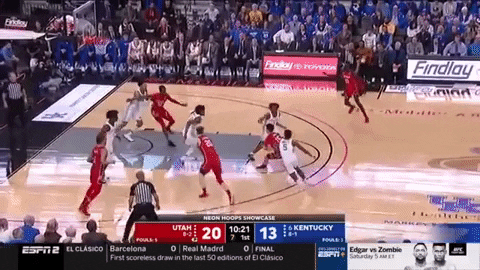 Transfer Troubles
Koby McEwen – Marquette: McEwen shot 41.6% (58-138) and 32.0% (67-203) from three his first two seasons at Utah State. After transferring and sitting out 2018-19, the guard only made 29.2% (35-120) this past season (FT% improved from 72.5% to 85.1%). His steady decline in 3PT% over his college career is concerning. McEwen also took some challenging pull-up shots, but he did this at Utah State as well (can't fully explain efficiency decline). That said, both his FT% and the "eye test" suggest he's a capable shooter. He can get to 33% if he plays enough off-the-ball, with DJ Carton and others generating 3-point looks for him.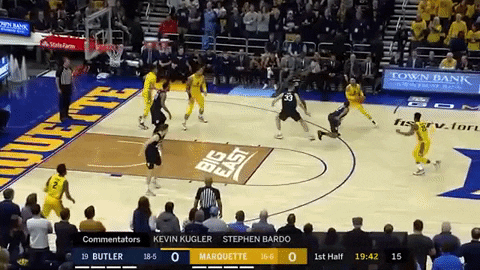 Austin Reaves – Oklahoma: Reaves experienced a major drop-off in 3-point efficiency in his first season with Oklahoma. After hitting 42.5% (54-127) of his threes in 2017-18 with Wichita State and sitting out 2018-19 due to transfer, he only made 25.9% (42-162) this past season. While Reaves was only a role player at Wichita State, he was pretty much given free rein with the Sooners, leading to A LOT of difficult 3-Point attempts. While 81.5% of his made threes were assisted in 2018-19, this fell to 52.4% last season (per hoop-math). Somewhat similar to McEwen, Reaves is a "33%-plus" level shooter, but his shot selection will dictate whether he eclipses this mark next season. If possible, Oklahoma would be better suited by playing him more off-the-ball.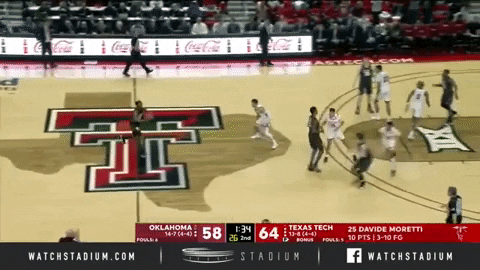 Rasheem Dunn – St. John's: Dunn has never been a great 3-point shooter, making only 27.9% his sophomore year at St. Francis. After transferring and sitting out 2018-19, he made only 22.4% with St. John's last season (FT% held steady at 76.9%). Despite his shooting struggles, Dunn made positive contributions as a playmaker, limited turnovers, and had a knack for getting to the line. The guard is unlikely to eclipse 30% from three in 2020-21, so he should limit these attempts as much as possible (may need to shoot a bit to keep defenses honest) and focus on contributing to these other areas.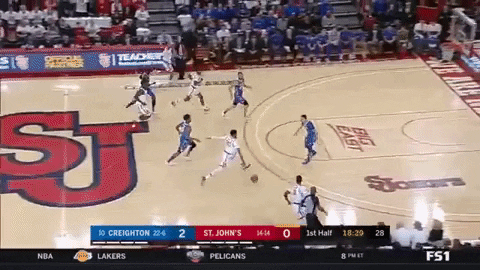 The Missouri Duo
Dru Smith – Missouri: Smith shot a blistering 49.1% (27-55) from three his sophomore season at Evansville, but after transferring and sitting out a year, only made 29.4% (25-85) from downtown last season (FT% improved from 87.1% to 89.9%). His stellar sophomore season came with a smaller sample size, but one has to imagine he's better than a 29.4% shooter. He should be expected to hit at least 33% from downtown in 2020-21, but he needs to veer away from pull-up shots (only 68.0% of threes assisted last season) and focus on catch-and-shoot attempts like the below.
Xavier Pinson – Missouri: Pinson shot 40.0% (26-65) from three his freshmen year but fell off to only 27.9% (29-104) last season (FT% up from 77.9% to 81.7%). Continuing a familiar theme, Pinson was also no stranger to the off-the-dribble jumper (see below), which definitely weighed on his efficiency. Similar to his teammate Dru Smith, the guard is fully capable of reaching the 33% mark, but his shot selection could be the determining factor.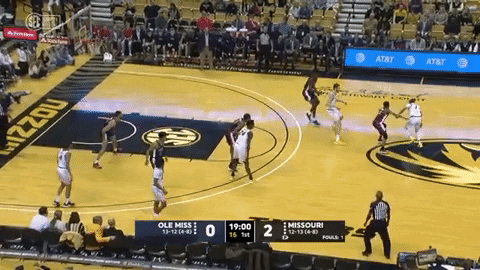 The Freshmen
Justin Champagnie – Pittsburgh: The 3-star freshman played a lot for the Panthers (32.9 mpg) and had a productive season overall, averaging 12.0 points, 7.0 rebounds, and the 3rd-lowest turnover rate in the conference during ACC play. He showed a flash of significant potential in a March 10th victory over Wake Forest, scoring 31 points on 13-19 shooting (3-7 from three). If his long-range shot progresses, Champagnie could turn into an All-ACC level player someday. All of his threes were assisted last season, so poor shot quality can't explain his 26.2% clip. Projecting 33% shooting seems a bit too optimistic, but ~30% feels like a realistic goal for the forward.
Quenton Jackson – Texas A&M: Despite his poor 3-point shooting, Jackson was effective at drawing fouls and knocking down free throws during his freshmen season (7th-best "fouls drawn" rate in SEC during conference play). Although the former 3-star's 24.4% 3PT% came by way of a fairly small sample size (19-78), it was ugly nevertheless. Like all three freshmen, his transition from high school to the lengthened college 3-point line was surely difficult, and the occasional pull-up three (like below) didn't help the cause either. Jackson isn't a strong candidate to reach the 33% mark next season, but Aggies fans shouldn't give up on his shooting just yet.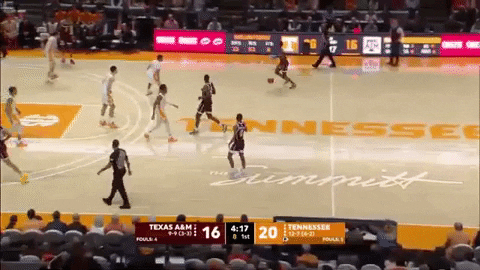 Jordan Wright – Vanderbilt: Wright had the largest FT%-3PT% disparity of any of the 12 players at 61.0%. Although the 3-star guard had limited attempts during his freshmen season (15.1%, 8-53), like Jackson, his percentage was undeniably ugly. His shot quality wasn't an issue, and his strong FT% (76.1%) suggests he has potential as a shooter. He's not a 33% candidate either, but again like Jackson, is far from a lost cause.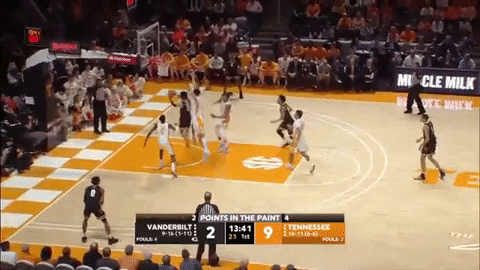 Conclusion
As discussed, the longer 3-point line hindered the efficiency of freshmen, sophomores, and upperclassmen alike. The freshmen generally had decent shot selection (limited off-the-dribble attempts), but the significant transition to the college distance proved to be quite challenging. For the nine non-freshmen, their poor shooting seemed to be driven by both the long line and difficult shot selection. Darius Days was the only player that steered well clear of off-the-dribble/pull-up 3-pointers.
Shot selection will continue to play a significant role in these players' long-range improvement (or lack thereof) next season. While the longer 3-point line will continue to provide challenges, a year of experience/practice will likely make this less of an obstacle than it was last season. As their strong free-throw percentages suggest, each of the 12 have solid shooting foundations to build upon. They won't all reach the 33% threshold, but there's plenty of reason to expect shooting improvement from them next season.
(Credit to KenPom, hoop-math and sports-reference for statistics, ESPN for recruiting rankings, and Big Ten Network, ACC Digital Network, Fox Sports, Missou Athletics and Stadium for GIFS)