Every season, there are a few college basketball players that go from good to great; stellar role players one season that become stars in the next. Not every star role player is capable of taking that next step, however. Who were the best role players in the sport last season, and which are best suited for potential stardom?
There are countless ways to determine the best role players, but I chose to use the following criteria:
>= 20 games
>= 20.0 minutes
>= 20.0 PER (Player Efficiency Rating)
<= 20.0% usage rate
Only 28 players with remaining eligibility met each of these four criteria last season. Each player was a significant enough contributor to meet basic games and minutes criteria, but with usage rates of <= 20%, weren't asked to carry the same load offensively as a star. When they were called upon, however, their >= 20 PERs suggest they consistently delivered at a high-level (interestingly, only 8/28 players were guards).
For reference, usage rate reflects the percentage of a team's possessions a player "uses" while on the court (taking a shot, getting to the foul line, or turning the ball over). If a player's usage rate is too high, it's difficult to call them a role player.
Fun Facts: At 39.3%, Marquette's Markus Howard had the highest usage rate in the sport last season (UNC Greensboro's Isaiah Miller #2 at 37.8%). 64 players had a usage rate of at least 30.0%.
Additionally, PER provides a per-minute rating of a player's contributions. Good stats like made field goals, assists, rebounds, blocks, and steals are weighted against bad stats like missed shots, turnovers, and fouls. PER isn't a perfect statistic, but it's useful nevertheless.
Fun Facts: At 35.0, William and Mary's Nathan Knight had the best PER in college basketball last season (Iowa's Luke Garza #2 at 34.4). 16 players had a usage rate of at least 30.0.
Let's get back to the 28-star role players and consider which have the best chance of getting to the next level in 2020-21. With Florida State's Devin Vassell and Houston's Nate Hinton foregoing remaining eligibility and heading to the NBA, the list becomes 26.
Jay Huff – Virginia
Going into last season, Huff was a popular pick to take a significant leap. This didn't quite pan out, but the forward was still a valuable contributor on both ends, ranking 2nd in the ACC in effective field goal percentage (eFG%) and 1st in block rate.
Huff is a capable finisher around the basket and can stretch the floor as well (35.8 percent from three last season). If Tony Bennett can get him a few more shots per game (only 6.1 last season), a 2nd-team ACC nod (like Mamadi Diakite received in 2019-20) is very realistic. The forward's 15 point, 8 rebound, 10 block performance against Duke on February 29th provided a glimpse of his ceiling as a player. Check out the versatility that the 7-1 Huff displays below.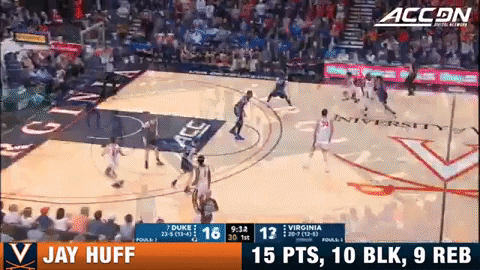 2020-21 Ceiling: All-ACC First Team
Kevin Samuel – TCU
Similar to Huff, Samuel was among his conference's best in terms of eFG% and block rate (2nd, 4th respectively in Big 12). The 6-11 forward was a dominant rebounder as well, snagging 8.4 per contest.
To take the next step, however, Samuel needs to improve his foul shooting (only 37.8%). Kansas' Udoka Azubuike may have been a great player despite his struggles at the line, but he's more of the exception, not the rule (also was better foul shooter than Samuel last season at 44.1%). The forward's 19 point (7-7 from the field, 5-6 from line), 8 rebound, and 5 block performance against West Virginia on February 22nd hinted at just how good he can be on a given night. Below, Samuel showcases impressive instincts and mobility on two pick-and-rolls.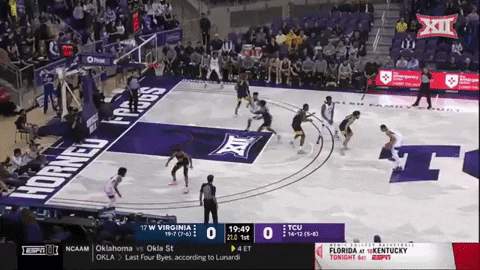 2020-21 Ceiling: All-Big 12 Second Team
Kyle Young – Ohio State
Young was the "glue guy" for Ohio State last season, doing all the little things, making the hustle plays, etc. His contributions, particularly as an offensive rebounder, reflect the energy he brings on the court. The forward consistently positions himself well around the basket and is a capable finisher when given the opportunity. At 6-8, he provides the interior toughness to bang on the interior, but also the versatility to make plays like the below.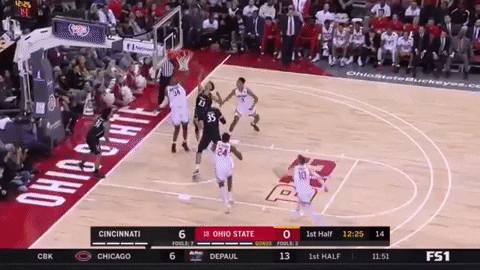 Whereas Huff and Samuel have more upside, Young is perfectly suited as a star role player. He's probably not capable of taking on an enhanced scoring/playmaking load, but I'm sure Chris Holtmann would be happy to sign up for another year of similar contributions from Young.
2020-21 Ceiling: All-Big 10 Honorable Mention
Myles Johnson – Rutgers
Similar to Huff and Samuel, Johnson makes a major impact as a rebounder and rim protector (7.9 rebounds per game, and 4th in Big 10 in block rate last season). The forward wasn't named to the conference's All-Defensive Team, but this should be well within his grasp in 2020-21.
Whether Johnson can go from role player to star will depend on the offensive end of the floor. He hasn't showcased the scoring skillset of a Huff or Samuel yet, but the impact of his offensive rebounding abilities shouldn't be discounted. As a sophomore, Johnson ranked 2nd in the conference and 16th nationally in offensive rebounding rate, creating a plethora of second-chance opportunities for the Scarlet Knights (see below). He's capable in the pick-and-roll as well, something Rutgers should perhaps utilize more.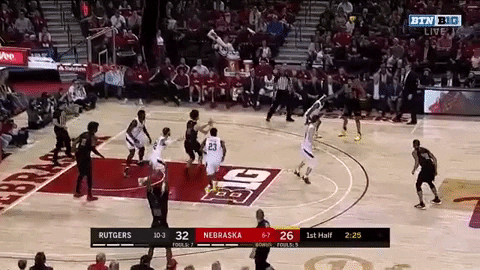 2020-21 Ceiling: All-Big 10 Third Team
Jacob Gilyard – Richmond
The first guard discussed, Gilyard recorded is one of the more underrated statistical profiles last season. He ranked 30th nationally in minutes percentage and 4th in steal rate while shooting 59.7% from two and 36.7% from three. He was also the Defensive Player of the Year in A-10.
The 5-9 guard added 5.7 assists per contest. Check out how easy makes the pick-and-roll read/pass look below. Gilyard showcased his ceiling in a January 25th home loss to Dayton (29 points, 9-17 from the field, 5-9 from three, four assists, three steals).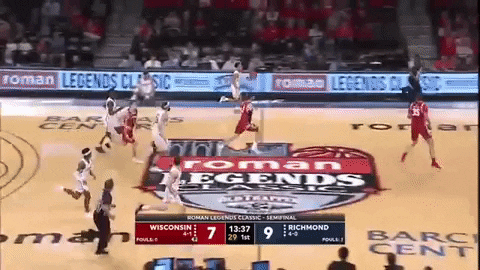 Gilyard is fully capable of taking on an expanded role in his upcoming senior season, but given the team should return all five of its leading scorers from 2019-20 (all seniors), his usage rate might only see a slight uptick. Although this might prevent the guard from becoming a true star, it bodes well for Richmond's prospects in the A-10 and beyond.
2020-21 Ceiling: All-Atlantic 10 1st Team
Quick Hits
Austin Phyfe – Northern Iowa: A 1st team All-Missouri Valley selection this past season, Phyfe was a formidable force on the interior for the Panthers. He recorded the 6th-best eFG% and 22nd-best offensive rebounding rate in the nation. AJ Green will likely continue to be the focal point of UNI's offense in 2020-21, but there's enough roster turnover for Phyfe to increase his usage.
2020-21 Ceiling: Top 10 mid-major player
Chris Vogt – Cincinnati: The 7-1 Vogt makes defenses pay when he gets the ball near the basket (11th in eFG%). The center probably isn't well suited for a huge offensive role, but with three notable Bearcats graduating, his usage should see a notable uptick. Additionally, it's worth noting that Vogt is still technically testing NBA Draft waters but he is expected to return.
2020-21 Ceiling: All-AAC Third Team
Jalen Hill – UCLA: A former ESPN Top 50 recruit and Honorable Mention for PAC-12 All-Defense last season, Hill has the talent of an All-Pac 12 caliber player. His most significant contributions have come from rebounding and rim protection, but it's worth applauding his 77.6 FT% last season on 4.3 attempts per game (impressive for a 6-10 player).
2020-21 Ceiling: Honorable Mention All-Pac-12