Early season upsets can provide insight into which teams are overrated and underrated, but not all upsets are created equal. Some are statistical outliers and primed for overreactions.
Four unranked teams have toppled their ranked opponents thus far in 2020-21, serving as the four notable upsets of the young season (as of 12.2.20).
11.25.20: San Diego State 73, #22 UCLA 58 (@ San Diego State)
11.27.20: San Francisco 61, #4 Virginia 60 (Neutral)
11.28.20: Virginia Tech 81, #3 Villanova 73 (OT) (Neutral)
11.29.20: Richmond 76, #10 Kentucky 64 (@ Kentucky)
San Diego State – UCLA
Of these upsets, San Diego State's victory is likely the most predictive of future performance. Although the Aztecs had the benefit of playing the game at home and shot well from downtown (9-23, 39.1%), they might simply be the better basketball team. San Diego State is currently ranked 34th in Kenpom (vs. 39th for UCLA) and returns several key pieces from a 30-2 squad that was set to earn a 1-seed last season (headlined by Matt Mitchell and Jordan Schakel). 6-10 Nathan Mensah is back to man the interior after missing the majority of 2019-20, and Cal St. Northridge graduate transfer Terrell Gomez looks capable of providing a scoring punch off the bench.
Richmond – Kentucky
Richmond has four senior starters and could be the best team in the Atlantic 10. Jacob Gilyard is one of the best defenders in the nation (five steals vs. Wildcats), Blake Francis is a talented shot creator (18 points), Grant Golden is a Swiss Army knife that can do a little bit of everything (13 points – 7 rebounds – 5 assists) and Nathan Cayo provides valuable athleticism on the interior (8-13 from the field).
Despite Kentucky's youth, beating the Wildcats at Rupp Arena is no small feat. Still, it's worth noting that not only did John Calipari's squad have 21 turnovers, but it went 0-10 from 3-point range. Prior to this game, Kentucky hadn't gone 40 minutes without making a three since the Round of 64 in 2018 (went 0-6). Despite this, the Wildcats still managed to beat 12-seed Davidson 78-73 (ultimately lost to 9-seed Kansas State in the Sweet 16).
Virginia Tech – Villanova
Last season, 56 unranked teams 1) made >=10 threes and 2) shot >= 40% from three against a ranked opponent. These unranked squads had a record of 23-33 (41.1%) in these games (per sports-reference). Suffice to say, a) these games don't happen too often, and b) underdogs have a solid chance at winning when they do. Unranked teams have also fared pretty well under these circumstances the prior four seasons.
2018-19: 75 games, unranked teams 22-53 (29.3%)
2017-18: 111 games, 40-71 (36.0%)
2016-17: 59 games, 21-38 (35.6%)
2015-16: 61 games, 28-33 (45.9%)
Overall (last five seasons): 362 games, 134-228 (37.0%)
There have been four instances of these games so far this season, and the unranked squads are 2-2. Virginia Tech and San Francisco managed to pick up big victories over #3 Villanova and #4 Virginia, while Bowling Green and Houston Baptist couldn't take advantage of their blistering 3-point shooting.
Since 2010-11, Virginia Tech has played 62 games vs. a ranked opponent as an unranked team, winning 14 (22.6%) of them. The Hokies met the "10 threes / 40% shooting" criteria in 10 of the 62 games, winning four of them.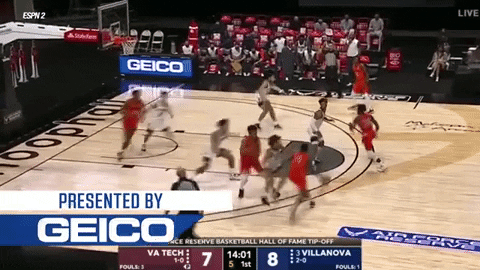 Mike Young's squad only checked both boxes once last season and took advantage, a game which felt quite similar to its Villanova matchup. On November 25th, 2019, unranked Virginia Tech hit 10-21 (47.6%) from downtown and beat #3 Michigan State 71-66. The game was played on a neutral floor at the Maui Invitational.
The Hokies' recent victory against Villanova came just over a year later on November 28th, 2020. Again unranked, the team again hit 10 threes (10-20), and beat the #3 team in the nation for a second straight season. This game, however, had a final score of 81-73, went to overtime, and took place at "Bubbleville" (Mohegan Sun Casino in Connecticut).
San Francisco – Virginia
San Francisco met the "10 threes / 40% shooting" criteria against Virginia, hitting 13-28 (46.4%) from long-range in its thrilling 61-60 victory. Since 2010-11, the Dons have played 28 games against a ranked opponent, winning three (10.7%) of them. Along with the Virginia win, the other two came in February 2012 against #24 Gonzaga (66-65 – Home) and February 2018 vs. #15 Saint Mary's (70-63 – Home). It didn't take the same level of 3-point shooting to pull off those two upsets, however, as San Francisco only went 4-14 (28.6%) and 6-15 (40.0%) respectively from downtown.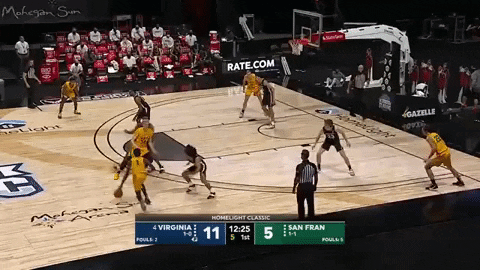 Of its 28 games against a ranked team, only one was a "10 / 40" game, coming in January 2018 against #15 Gonzaga. San Francisco hit 12-28 (42.9%) from downtown but still fell by the score of 65-75.
Conclusion:
It can be tempting to overreact to early season results, particularly surprising ones. It's worth keeping in mind, however, that when it comes to forecasting future performance, some games are more valuable than others. While the San Diego State – UCLA outcome might be meaningful, it could be years before Kentucky shoots as poorly as it did against Richmond (although 3-point shooting seems to be a legitimate weakness for the Wildcats early on). It's also possible that Villanova and Virginia simply ran into teams that were red-hot from downtown, and nothing broader should be gleaned from the results. If these teams suffer more surprising losses, however, there could be deeper issues at play.
(Credit to KenPom and sports-reference for statistics (updated as of 12.2.20) and ESPN and ACC Digital Network for GIFs)