Despite the mathematical advantages that come with embracing 3-pointers, I still struggle to fully internalize this reality. Maybe it goes back to my NBA 2K days. In order to hang with the CPU on Hall of Fame mode, scoring on almost every possession felt like a necessity. This mindset bred a strategy of a million LeBron post-ups and zero 3-point attempts.
(Credit to KenPom, sports-reference, and hoop-math for statistics and ESPN and CBS Sports for GIFS)
In the same vein, I personally tend to enjoy college basketball teams that "make the most shots," in essence valuing field goal percentage above effective field goal percentage. Unsurprisingly, the best field goal percentage teams tend to excel inside the three-point arc.
The best team in college basketball this season per 2-point percentage has been the Dayton Flyers, who are shooting a blistering 65.6%. It's hard not to love Anthony Grant's squad, but with all the attention the team's gotten post-Maui, I'm far from alone in this regard.
It's the number-two team, however, that's caught my eye despite being fairly under the radar this season is the LSU Tigers.
Will Wade's team is making 61.9% of its 2-point attempts and generating 58.1% of its points from these shots (29th-most nationally). This success isn't just coming from dunks either. The Tigers rank 10th in field goal percentage on shots at the rim (71.6%) and 3rd in the country on "2-point jumpers," making 48.7%.
The Tigers' three leading scorers, Skylar Mays, Emmitt Williams and Darius Days, have all been dominant inside the arc. This season, only 24 players are shooting >= 64.9% from 2-point range on at least 40 attempts AND have averaged at least 14.2 points.
Kansas' Udoka Azubuike and Dayton's Obi Toppin unsurprisingly make the list, but only one team has multiple players. It's LSU, who has THREE different players on the list, with each of the Mays-Williams-Days trio meeting the criteria.
Of course, all this efficiency has come in a relatively small sample size against the 250th-ranked schedule, but it's impressive nevertheless. Not only have the trio's numbers been undeniably stellar, but they've excelled inside the arc with some style and flair as well.
Skylar Mays
16.0 ppg, 64.9% 2-point percentage (37-57)
Mays has attempted 53.3% of his shots at the rim and made 65.3%, while 8.7% of his shots have been 2-point jumpers (62.5% FG%). As one of the team's primary ball-handlers, a lot of the senior's interior buckets have come off drives from the perimeter. Mays excels at driving to the basket and finishing near the rim.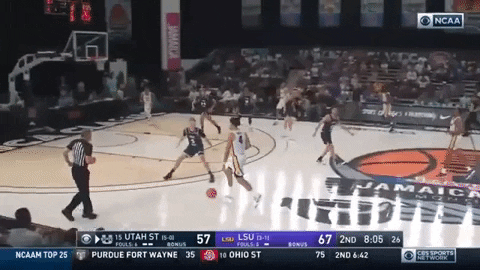 Averaging 16.0 points per game, Mays's scoring excellence hasn't been limited to inside the arc either. He's currently shooting a smooth 14-35 (40.0%) from three-point range.
Emmitt Williams
15.4 ppg, 70.8% 2-point percentage (51-72)
57.5% of Williams's shots have come at the rim (82.6% FG%), while a sizeable 32.5% have been 2-point jumpers (50.0% FG%). Although he's been developing a mid-range game and can even threaten from the 3-point line (3-8, 37.5%), the sophomore is at his best when he uses his explosiveness around the basket.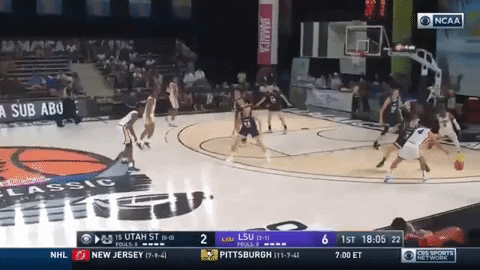 Darius Days: 14.2 ppg. 85.0% 2-point percentage (34-40)
Days is attempting 33.3% of his shots at the rim and has made 88.9% of those attempts. While 16.0% of his shots have been 2-point jumpers (76.9% FG%). At 6-6, Days can score inside-and-out, both excelling in the post and stretching out to the 3-point line (14-41, 34.1%).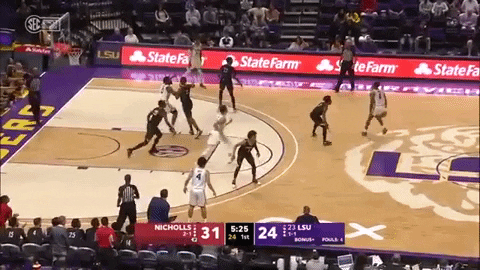 While Days doesn't have the same athleticism Williams does, he makes up for it with his positioning and overall touch around the basket. Although his numbers will surely fall off a bit, his 85.0% 2-point percentage currently ranks 1st, nationally (among players that have met a reasonable minutes and "shots per game" threshold).
Conclusion
LSU received three votes in the most recent AP Poll (essentially ranking 44th) and is currently 27th in KenPom and 26th in the new NET rankings. The team has some issues on the defensive end, but it has the talent level to compete with anyone in the country. Along with Mays, Williams and Days, Javonte Smart and Trendon Watford round out a pretty impressive starting five. While this team is right now not getting a lot of buzz. Don't sleep on the Tigers.