With several college basketball players deciding to withdraw from the NBA Draft and return to school, there has been speculation as to what drove these decisions. Each player's situation was different; while some focused largely on their professional prospects (or lack thereof), others likely thought more about their collegiate teams (and the potential tournament runs) they'd be leaving behind.
Although every team obviously desires NCAA Tournament success, there are some that given their circumstances, should be especially motivated entering 2020-21. For the individual players, the driving factor might be justifying their decisions not to pursue the professional ranks. When it comes to teams as a whole, some have failed to capitalize on recent tournaments, driving the motivation for a postseason breakthrough.
Combining all these motivations, hat teams (and individual players) will be most motivated to achieve success in March come next season?
Note: Credit BracketMatrix for references to last season's projected seeding and Making The Madness/Jonathon Warriner for references to VERY EARLY projected seeding for this upcoming season (2020-21)
Arizona State Sun Devils (Remy Martin)
Both Remy Martin and the Arizona State program fall under the "super motivated" category. There was plenty of speculation about Martin turning pro, so he'll surely want to make the most out of his decision to return. From a team perspective, both Martin and the Sun Devils have been building towards postseason success for years now.
The Sun Devils haven't won a Round of 64 game since 2009, but have had plenty of opportunities in the last few seasons. The team earned an 11-seed in Martin's freshmen season (2017-18) but lost in the First Four to Syracuse. Arizona State earned another 11-seed (and a trip to the First Four) in 2018-19, and although a victory over St. John's advanced them to the Round of 64, the squad fell 91-74 to 6th-seeded Buffalo.
Arizona State was in prime position to skip the First Four (projected 10-seed) this past season but never got the opportunity. With Martin and fellow senior guard Alonzo Verge Jr both returning, the Sun Devils will arguably be a top-25 team. Yet another chance to punch a ticket to the Round of 32 (projected 4-seed) should be in store.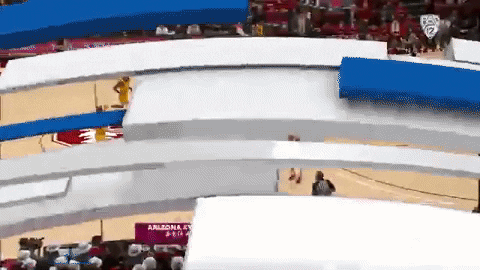 New Mexico State Aggies
There might be no mid-major program more desperate for a tournament victory than the Aggies, whose drought extends back to 1993. Since 2000, New Mexico State is 0-9 in the 1st round (three 12-seeds, four 13's, one 14 and one 15). 2019-20 would have likely marked the team's fourth straight tournament appearance (projected 13 seed) and may have finally provided the breakthrough. In 2018-19, the 12-seed Aggies came just one point short (77-78) to an Auburn squad that ultimately reached the Final Four.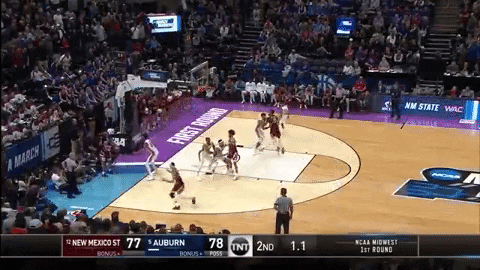 This year's team should be the favorites to represent the WAC in March again (projected 14-seed). With a solid trio of Jabari Rice, Johnny McCants, and Evan Gilyard leading the way, perhaps the breakthrough will finally be on the horizon.
Marquette Golden Eagles
In four seasons with Markus Howard, the Golden Eagles had zero NCAA Tournament victories (last win in 2013). The Golden Eagles fell as a 10-seed to eventual Final Four team South Carolina in 2016-17 and they were upset by 12th-seeded Murray State in 2018-19. They were projected as a 9-seed this past season, it would have been hard to bet against Markus Howard not carrying his team to at least one tourney win.
It's difficult to know what to make of the 2020-21 Marquette squad, but given that talented Ohio State transfer DJ Carton will be eligible, the team has a chance to go dancing yet again (although it's currently projected to miss tournament). If Carton can reach the potential he flashed with the Buckeyes and Koby McEwen can improve his efficiency (only 29.2% from three), a tournament appearance (and victory) isn't out of the question.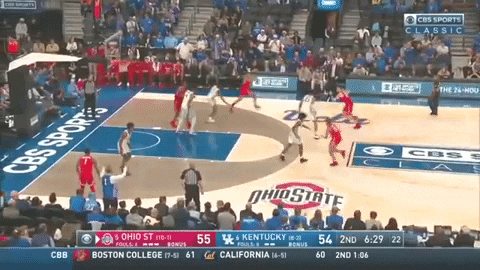 Iowa Hawkeyes (Luka Garza)
Given that Iowa's Luka Garza could likely have made significant money overseas, arguably no player that withdrew from the draft will be more motivated to make the most out of this upcoming season.
Given that he could be the best player in the sport, the big man will surely enjoy plenty of individual success. It could also be a special season for Iowa as a whole. In announcing his return, Garza made clear that the prospect of competing for a national championship definitely factored into his decision.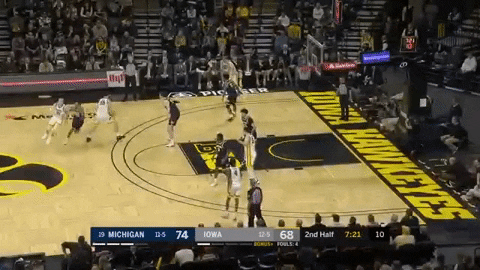 The program has a tournament victory as recently as 2019 but missed the chance to pick up a few more last season (were projected a 6-seed). Iowa hasn't made a sweet 16 since 1999, so this will surely be a major goal this season.
Baylor Bears (Jared Butler and MaCio Teague)
Baylor was in the midst of its best season in program history before play came to a halt. The Bears were in a position to earn a 1-seed, something the program has never accomplished (3-seed four times). Five of the team's top seven players from last season will be back, providing plenty of motivation to "finish what the team started."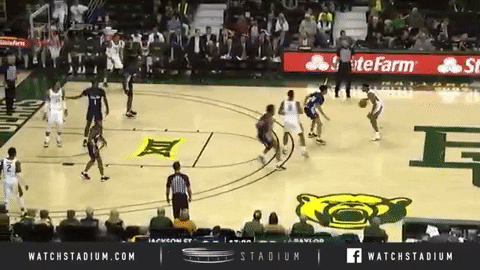 Both Jared Butler and MaCio Teague flirted with turning pro but ultimately decided to return. Although neither player was regarded particularly highly among NBA scouts, each was capable of finding teams overseas. The fact their returns weren't inevitable suggests they're both motivated to come back and do something special. Butler said so himself in his video announcement.
"In the spring, I decided to put my name in the NBA draft and evaluate my professional career…But through it all, one thing remained in my mind: unfinished business. Baylor, I'm coming back. Let's go win a national championship."
Baylor will be a favorite to earn a 1-seed next season, and after Elite 8 appearances in 2010 and 2012, will have a fighting chance at reaching the program's first Final Four since 1950.
Creighton Blue Jays (Marcus Zegarowski)
Creighton and its high-powered offense became a trendy Final Four pick last season and was positioned to earn a 2-seed (would have been best in program history – 3-seed in 2013-14). While last season's leading scorer Ty-shon Alexander decided to pursue a professional career, the return of Marcus Zegarowski (who could have done the same) will be huge for the Blue Jays. With other key contributors in Denzel Mahoney and Damien Jefferson back as well, Creighton should be positioned for another special season (projected 3-seed).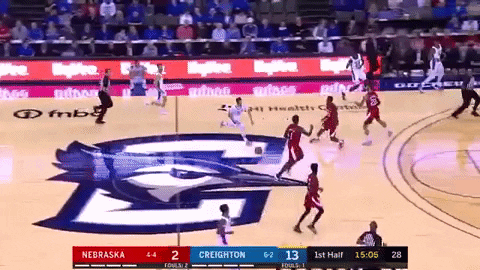 Whereas the return of Zegarowski and last season being cut short will surely be motivating factors, the Blue Jays recent NCAA Tournament history could be a driving force as well. Prior to missing the tourney in 2018-19, Creighton fell in the Round of 64 in consecutive seasons: as an 8-seed in 2017-18 and as a 6-seed in 2016-17. The 2016-17 team was a true Final Four contender before a season-ending injury to star guard Maurice Watson, making the trajectory of that season especially painful.
The program's last tourney victory came in 2013-14 and the last sweet sixteen appearances came all the way back in 1974! Creighton is due for some tourney success.
Vermont Catamounts (Stef Smith)
Few programs have been gearing up for an NCAA Tournament victory more than Vermont, and with star forward Anthony Lamb entering his senior season, 2019-20 looked to be the year the stars finally would align for a 1st-round upset (were projected 13-seed). Obviously, the team didn't get the chance to make this happen.
The Catamounts upset Syracuse as a 13-seed back in 2005, but the program's experienced a tournament drought ever since: lost as 16-seed in both 2010 and 2012 and fell as a 13-seed in both 2017 and 2019. Vermont had a solid squad in 2018 as well but fell to UMBC in the conference tournament championship (yes, that UMBC).
Despite losing Lamb, Vermont should still be the class of the America East next season and are projected to earn another 13-seed. The key will be whether super-talented guard Stef Smith (who dabbled with entering the professional ranks) can turn into a star in Lamb's absence.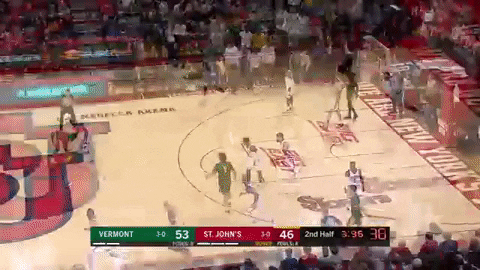 Gonzaga Bulldogs (Corey Kispert)
Despite Flip Petrusev's decision to turn pro, Gonzaga got great news when two starters in Corey Kispert and Joel Ayayi decided to return after testing NBA Draft waters. Kispert in particular had a legitimate chance at being drafted, making his decision all the more meaningful.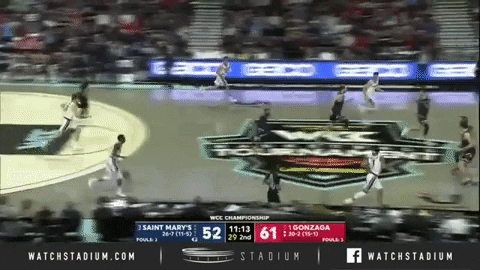 Kispert and Ayayi's returns will provide them individual motivation to lead Gonzaga to a special season, but the Bulldogs' recent tournament history should provide an extra boost as well.
First off, Mark Few's team was a projected No. 1 seed last season, missed out on the chance to make a national title run. The season before (2018-19), 1-seed Gonzaga fell a bit short of expectations, falling in the Elite 8 to Texas Tech. In 2017-18, the 4-seed Bulldogs arguably disappointed again, falling to 9-seed Florida State in the Sweet 16.
The 2016-17 season resulted in a national title appearance, but the last two seasons haven't quite gone according to plan. Ever since advancing to the title game, it's felt like just a matter of time before Gonzaga finally breaks through and wins a national championship. I'm sure Kispert, Ayayi, and the entire program feel similar to a certain extent. Perhaps 2020-21 will finally be the year (projected 1-seed).
Illinois Fighting Illini (Ayo Dosumnu and Kofi Cockburn)
Neither Ayo Dosunmo nor Kofi Cockburn were regarded as elite NBA Draft prospects but could have pursued professional opportunities. Their decisions to return should make the 2020-21 Illini among the best teams in the Big Ten (and potentially the entire country).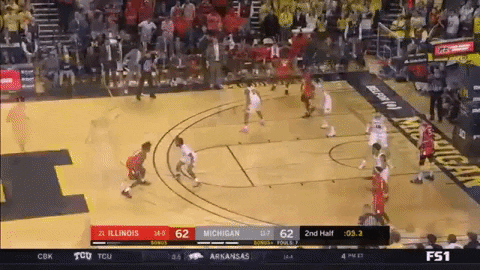 Both players are surely motivated to carry Illinois to its first Sweet 16 since 2005 (the national title game squad). In a Twitter video, Dosumnu made clear that his expectations are much greater.
"Since a kid, I've been working, my dream is to play in the NBA. But first, I need that national championship."
The entire Illinois program should be motivated as well, as the Fighting Illini haven't been to the tournament since 2013 (projected as a 7-seed this past season). Projected as a 1-seed this upcoming season, Dosumnu might get the chance to turn his dream into a reality.
Conclusion
Again, every college basketball team will clearly be motivated come March. That said, some teams and players should be especially motivated to thrive once the tournament comes around. Chances are, at least a few of these teams and players will find the success they've been pushing for.
(Credit to KenPom, Barttorvik and sports-reference for statistics and Bleacher Report, CBS Sports HQ, Fox Sports, Stadium, Big Ten Network and Pac-12 Networks for GIFS)