The Vermont Catamounts (6-3) received some publicity a few weeks ago after beating St. John's on the road 70-68 and putting up a valiant effort in defeat at Virginia, falling 61-55. Once America East conference play gets underway, Vermont will likely fall back under the radar again, but they shouldn't be forgotten because there is a good chance they'll be making noise come March.
(Credit to KenPom, sports-reference, and Barttorvik for statistics and America East Conference for GIF)
The Catamounts been knocking on the door of a tournament victory over the last few years but haven't been able to breakthrough. If this college basketball season follows anything resembling a movie script, then a special season could be in store for Vermont. For those unfamiliar, it's worth exploring the program's recent journey as it strives for NCAA Tournament success.
The Journey
The program technically has two tournament victories in its history. Their first NCAA Tournament win and only trip to the Round of 32 came in 2005 when 13th-seeded Vermont upset Jim Boeheim's 4th-seeded Syracuse team.
The most recent victory came in 2011-12 which was John Becker's first year with the program. The 16th-seeded Vermont Catamounts defeated fellow 16-seed Lamar in the First Four, before going on to lose handily to top-seeded North Carolina.       
2016-17
Following a four-year postseason drought, Vermont found itself dancing again in 2017, thus beginning its recent charge for tournament success. The face of this recent movement has been 6-6 star forward Anthony Lamb, who was a freshman on the 2016-17 squad.
The 13-seed Catamounts fell in a hard-fought game to 4th-seeded Purdue by the score of 80-70. Lamb led the Catamounts with 20 points on 8-12 shooting and junior guard Trae Bell-Haynes, the team's best player at the time, also showed well scoring 15 points and adding 6 assists.
The team finished 63rd in KenPom and 24th in minutes continuity, there was an argument to be made this was Vermont's best chance to break through over the last few seasons. That being said, with both Lamb and Bell-Haynes returning, the Catamounts seemed to be in position to breakthrough in the Big Dance the following season.
2017-18
This opportunity came to pass though, as Vermont, 76th in KenPom and 27th in experience, entered the America East conference tournament as the heavy favorite to earn the automatic bid. In the title game on their home court, however, the Catamounts fell in heartbreaking fashion to the same UMBC team that went on to upset 1-seed Virginia.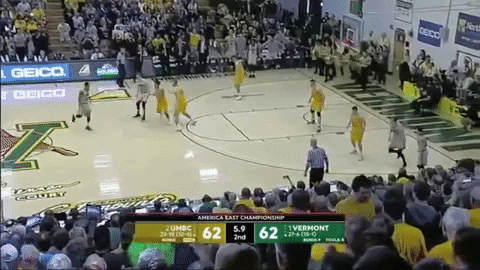 Vermont would likely have earned either a 12 or a 13 seed if it had advanced to the NCAA Tournament and in an alternate universe, perhaps the Catamounts could have played the "Cinderella" role.
2018-19
Vermont surely came into last season committed to grasping the elusive tournament victory, but first and foremost, it had to get back to earn a bid. Despite Trae Bell-Haynes's graduation and a younger roster that ranked 253rd in experience, John Becker's squad was strong again, finishing 76th in KenPom.
Vermont went 14-2 in conference play, but both losses came to archnemesis UMBC (11-5 in conference). In storybook fashion, the conference title game again came down to the Catamounts hosting UMBC. With a 28-point performance, Anthony Lamb made sure Vermont got redemption, leading the team to a 66-49 victory.
Like 2016-17, Vermont earned a 13-seed but was again unable to find the "March magic." They faced a really tough Florida State team that beat the eventual National Champion Virginia Cavaliers the week before. Even more than the average 4-seed, the Seminoles had an immense level of athleticism that seemed almost tailor-made to dismantle a mid-major team like the Catamounts. Despite the odds being against them, Vermont hung in the game but eventually fell to the Seminoles by a score of 76-69.
2019-20
This brings us to the present day. Despite taking some recent losses to Rider and Yale, the Catamounts have gotten off to a decent start on the whole. At 87th in KenPom, 77th in experience and 59th in minutes continuity, the team should be primed again for a tournament appearance. There's even some optimism they could earn as high as a 12-seed.
Anthony Lamb
Vermont's potential success in March will likely hinge on whether the senior Lamb and to a lesser extent junior guard Stef Smith can carry the team offensively. Lamb's 30-point outing against Virginia is the type of performance the Catamounts will likely need to earn a tournament victory. The good thing for John Becker's squad, however, is that the forward is fully capable of playing at this level. It would be tough to bet against him as a player given what he has done to this point in his career.
Lamb is the only returning college basketball player that averaged at least 21.2 points, 7.8 rebounds, make 1.6 threes per game AND shot at least 51.5% from the field last season (per sports-reference). His ability to score both inside-and-out makes him one of the more dangerous scorers in the country.
Only ten players in the nation are carrying a bigger load for their teams thus far offensively. Lamb's 35.9% usage rate places him with the likes of Marquette's Markus Howard (38.0%) and Harvard's Bryce Aiken (37.5%).
Conclusion
There's a long way until March, but Vermont may already be laying the groundwork for a special season and eventual tournament victory. For those familiar with the team's recent journey, a March run would feel very fitting.