The Creighton Blue Jays aren't ranked, and don't have any high-profile freshmen or NBA draft prospects and aren't even a lock to make the tournament this season. Despite that fact, there is an argument to be made that Gregg McDermott's squad is one of the more interesting teams in the nation. Here's why.
(Credit to KenPom, sports-reference, and hoop-math for statistics and FOX Sports for GIFS)
Stellar Guard Quartet
There might not be another team in the country with a better quartet of guards than Creighton, especially if one values experience and 3-point shooting.
Ty-Shon Alexander
The junior averaged 15.7 points per game last season and made 97-266 (36.5%) from 3-point range.
Mitch Ballock
The junior averaged 11.1 points last season and made 95-227 (41.9%) from 3-point range.
Marcus Zegarowski
The sophomore averaged 10.4 points last season and made 60-141 (42.6%) from 3-point range.
Davion Mintz
The senior averaged 9.7 points last season and made 43-124 (34.7%) from 3-point range.
Honorable Mention: Damien Jefferson
The junior averaged 6.2 points last season and made 14-34 (41.2%) from 3-point range.
With all four (five including Jefferson) of these guards returning, the Blue Jays will have one of the best 3-point shooting teams in the nation, and maybe one of the best offenses in the country.
Creighton had the 47th ranked offense last season per KenPom, with the 17th-highest 3-point attempt rate (46.7%) and the 29th-best 3-point percentage (37.9%). Although its early on this season, the Blue Jays currently rank 4th offensively, with the 153rd-highest 3-point rate (38.1%) and the 13th best 3-point percentage (43.2%). This attempt rate will likely rise as the season progresses, and for those that enjoy the long ball, the Blue Jays should be appointment television.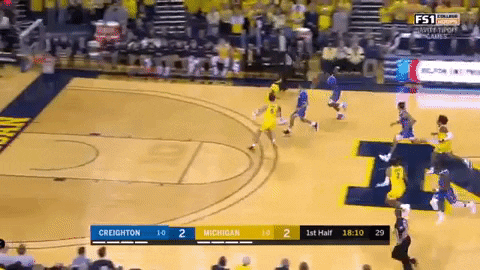 Here are two statistical "fun facts" (per sports-reference) that illustrate just how rare Creighton's "returning shooting" is.
1. Among the 353 teams in college basketball, only two return a duo in which both players made at least 93 3-pointers last season.
Jhivian Jackson (Jr.)/Keaton Wallace (Jr.) – UTSA
Ty-Shon Alexander (Jr.)/Mitch Ballock (Jr.) – Creighton
2. There are only three teams with a returning duo that each made at least 54 threes last season AND shot at least 40.6% on their long-range attempts.
Kobe Webster (Jr.)/C.J. Duff (Sr.) – Western Illinois
Jordan Ford (Sr.)/Malik Fitts (Jr.) – Saint Mary's
Mitch Ballock (Jr.)/Marcus Zegarowski (So.) – Creighton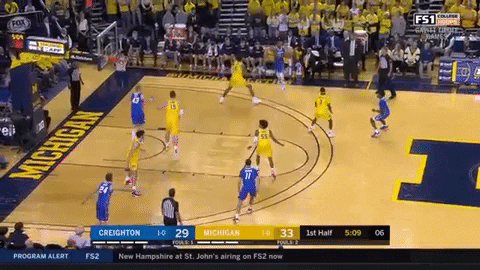 There are surely additional tidbits that could be dug up as well, but the key point would remain the same. Creighton's roster has both a quality and quantity of shooting options that few if any teams will be able to measure up with this season.
Great Guards, Questionable Interior
Despite great 3-point shooting last season, the Blue Jays only finished 55th in KenPom (47th offense, 83rd defense) and missed the NCAA Tournament. The team's offensive ranking was weighed down by a lack of offensive rebounding and some poor free throw shooting by its big men. Defensively, protecting the interior was the main issue, as the team ranked 282nd in defensive 2-point percentage (52.9%).
Interior defense will likely be a concern this year as well. The Blue Jays' main line of defense in the paint last season in 6-9 Martin Krampelj decided to forego his senior season and pursue a professional career. To make matters worse, 7-footer Samson Froling decided to return to his native Australia and also pursue pro basketball. Although he only averaged 9.2 minutes and 3.6 points as a freshman last season, he had some potential and would have played a notable role for this year's squad.
6-11 junior Jacob Epperson is the team's top returning big man, and although he only averaged 9.1 minutes and 4.8 points his sophomore season, he should be able to provide a competent level of interior play when he's on the floor. The issue, however, is that he broke his right leg in October and is expected to miss multiple months. He could be just what the Blue Jays need if he gets healthy, but it's not yet clear if he will even return this season.
With the injury and roster changes, Greg McDermott is left with two options: Kelvin Jones, a 6-11 senior that transferred from Idaho St. and 6-7 sophomore Christian Bishop. Although Idaho St. was among the worst teams in the country last season, Jones averaged 9.9 points in 20.0 minutes per game. Most importantly for Creighton, he also averaged 1.5 blocks, posting the 64th best block rate in the nation. It's too early too fully tell, however, how well his game will translate going to the high major level.
Bishop only appeared in three games in 2018-19, and at 6-7 with limited athleticism, there's likely a ceiling to his potential contribution inside. Even so, his effort's been solid, and he should be able to provide some value in certain matchups.
If Epperson doesn't return from injury, both Jones and Bishop will need to step in order for Creighton to have success, particularly on the defensive end. Bishop (averaging 19.7 minutes) has played more than Jones (16.0) thus far, but Jones will likely give the team the best chance defensively moving forward once he gets more acclimated to Greg McDermott's system. Although a small sample size, he's shown some strong flashes as a rebounder on both ends of the floor. In fact, he currently boasts the number one offensive rebounding rate in the nation (driven by 7 offensive boards against Michigan).
In the early going, both players have done a good job of fighting on the defensive glass, but the interior defense concerns are already rearing their ugly head (307th in defensive 2-point percentage, 56.9%).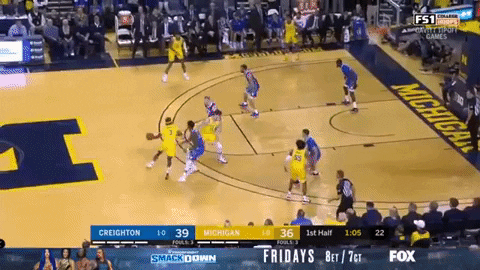 Every Creighton game will likely center around the same question: can the team's strong shooting and guard play offset its interior issues? Every game could be a bit of an adventure in this regard, with some matchups being much more treacherous than others. This dynamic guard-play being the main part of what should make the team so interesting to watch this season.
Tournament Motivation
As discussed, dynamic guard play and "interior adventures" should already make the Blue Jays an appealing watch, but the team's "tournament motivation" narrative adds to this as well.
As mentioned, Creighton failed to make the tournament last season. The season prior, 2017-18, the Blue Jays went dancing as an 8-seed but fell in the first round to Kansas St. The season before this, 2016-17, the 6-seed Blue Jays suffered another 1st round defeat at the hands of 11-seed Rhode Island.
The program's last tournament win came in 2014, and Creighton has several players on its roster that should be very motivated to earn a postseason victory this season. Senior Davion Mintz experienced both the 2016-17 and 2017-18 1st round losses, and juniors Mitch Ballock, Ty-Shon Alexander and Jacob Epperson were all freshmen when the team lost to Kansas State. After missing the tournament altogether last season, all four will surely not want to waste another opportunity if they get one (currently projected 10-seed in our Bracket projections).
Of course, every team is motivated to win tournament games, but the Bluejays might have a little extra motivation and postseason experience that could give them an edge. Regardless of whether the team's quest is ultimately successful, it should definitely be an entertaining journey to watch.